October 18th, 2021
Many children everywhere are excited to dress up, go out on Halloween and claim their fair share of Halloween candy. Here are some Halloween safety tips for parents.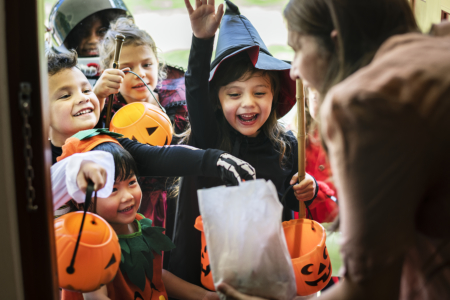 Remember to check labels. Here are some of the reasons why it is important to read the labels. An allergen can be present in their treat and can affect your child.
Some ingredients can affect your child negatively due to conditions.
Homemade Treats can seem innocent and safe but there's just no telling what ingredients are in them, not only because of allergens but because of deliberate harmful content. These are absolutely a NO-GO.
No snacking while actually trick or treating.
Many children will want to snack on some of their candy during the trick or treating fun but this is dangerous because it means the candy was most likely not checked. If they absolutely feel like having some of the candy while they are out, make sure to check it thoroughly before they have at it. It is best practice to be with your children while they enjoy this traditional national pastime but if you find yourself in the position of sending your kids out, make sure that they don't go out hungry. They may not want to snack after having a snack or a light meal. Let them know that they are not allowed to have anything anyone gives them until it is checked.
Bobbing for apples should be individualistic. Apples should be washed before use.
Children can also share germs and bacteria as well as illnesses such as covid if they share the same barrel for bobbing.
Party Food should be protected. Food should be safe before serving. Unpasteurized products can contain Salmonella. Keep Salads, Sandwiches, fruit, cold cuts, and cheese platters chilled.
Halloween Costumes and Sizes. Make sure to get the right size to prevent any unwanted trips and falls. Face paint is typically safer than masks.
Sometimes Halloween masks can limit children's vision as well as breathing. Check their masks before they go out. Also, check the masks for harmful materials like fake hair and excess strands of material inside the mask that can get caught in their mouth from breathing it in.
Costumes, wigs, and accessories should be fire-resistant.
Glow sticks, reflective tape & strips, and costumes do wonders for being able to see and be seen by drivers and neighbors alike.
Crossing: If there is any night to cross at crosswalks and corners, it's definitely on Halloween.
Predators. We wish we didn't have to mention this one but because it's a reality, we must all be aware that there will be predators out there. If your children are trick or treating without you, Make sure that they are in a group.
Never enter a stranger's home or car.
Group Tactics. Keep safe distances from each other due to covid but stay close enough so that no child gets left behind. The group should check behind themselves and around the area every time they move or even stay stationary.
Staying aware of the people around you and people walking past is suggested. If something or someone looks suspicious, say something.
Doorbells. Don't ring doorbells with exposed hands. Use a prop if you can.
Some towns like Clifton NJ and Nutley NJ tend to use crossing guards and neighborhood watches for Halloween. Your small group should walk past them and stay in highly lit areas so the guards can remember your group and be able to share needed details.