How sugary drinks harm your teen's teeth
| Teens and sugary drinks
The number of teenagers who consume soda today has nearly doubled from what it was several years ago. Sodas and other carbonated beverages typically contain an excessive amount of sugars and acidic flavorings that erode tooth enamel, which can ultimately lead to tooth decay.
Sipping soda through a straw can reduce the contact these beverages have with your teeth, essentially minimizing the damage. In addition, drinking water after soda helps to rinse your mouth and reduce your risk of cavities. To help keep your teeth strong for your lifetime, limit your intake of carbonated beverages.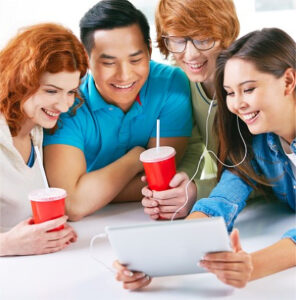 Exploring the two main effects sugary beverages have on your teeth
Erosion
When soft drinks encounter tooth enamel( the protective layer on your teeth) the acids begin and continue to reduce the hardness of the enamel. As you drink more sugary drinks, the acids tend to do more damage.
Cavities
The next layer behind the enamel is the dentin. The acids can and will damage this layer which will then develop cavities. This develops over time as people who drink soft drinks regularly.
Some of the most common soft drinks and even drinks marked as "healthy" have loads of sugar in them.
Lots of Sugar
Soda
Energy Drinks
Chocolate Milk
Smoothies
Fruit Punch
Juice
Better Choices
Water
Unsweetened Tea
Milk
Plain Sparkling Water
Diluted
These have little to no sugar.
Don't sip:
The longer you take to drink your drink, the more time the acids and sugar have to damage your teeth. Drinking at a faster but safe pace will allow the harmful acidy beverage less time to damage your teeth.
Use Straws and drink in moderation:
Using a straw when you drink soda may help avoid cavities and tooth decay,
but the straw needs to be in the right place. Using straws is a helpful method of drinking
beverages like soda because the straw sets passed the teeth.
They will not completely help prevent cavities however, this is why drinking in moderation is also advised. The less harmful and sugary drinks are consumed,
the better the chance to preventing cavities.
Rinse your mouth with water afterward:
Flushing your mouth with some water after drinking soda will help wash away any remaining sugars and acids, and stop them from attacking your teeth.
Brushing Tip, Wait before you brush:
brushing immediately after drinking a soft drink or sugary beverage is not a good idea.
This is because the teeth that are recently attacked by acid are vulnerable and can
easily be damaged due to the added friction to the acid.
Brushing your teeth twice a day is highly recommended.