October 9th, 2020
When is baby's first tooth eruption?
Typically, the bottom two front teeth called central incisors, are the first teeth to emerge.
The top four front teeth are the next to erupt. Teeth will then appear in pairs, typically.
This doesn't mean they will appear right next to each other. These teeth will appear on each side of the upper and lower jaw respectively.
This happens until 20 teeth, ( 10 top, 10 bottom ), have filled in. The child will be around 2 1/2 to 3 years old.
Why is it important to take care of baby's teeth?
The variations in teeth such as size, shape, and location enable teeth to work together to chew, speak, and smile. The teeth also contribute to the shaping of the face.
They help in attaining good nutrition, and they help with a healthy start for permanent teeth. Decay and infection in baby teeth can cause damage to the permanent teeth developing beneath them.
Primary Teeth Development Chart
Upper Teeth
When tooth emerges
When tooth falls out
Central incisor
8 to 12 months
6 to 7 years
Lateral incisor
9 to 13 months
7 to 8 years
Canine (cuspid)
16 to 22 months
10 to 12 years
First molar
13 to 19 months
9 to 11 years
Second molar
25 to 33 months
10 to 12 years
Lower Teeth
Second molar
23 to 31 months
10 to 12 years
First molar
14 to 18 months
9 to 11 years
Canine (cuspid)
17 to 23 months
9 to 12 years
Lateral incisor
10 to 16 months
7 to 8 years
Central incisor
6 to 10 months
6 to 7 years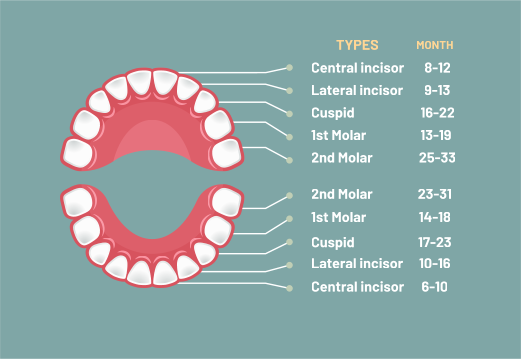 Additional Facts of Tooth Eruption:
Approximately 4 teeth will erupt every 6 months
Girls generally precede boys in tooth eruption.
Teeth in both jaws usually erupt in pairs -- one on the right and one on the left.
Primary teeth are smaller in size and whiter in color than the permanent teeth that will follow.
Lower teeth usually erupt before the upper teeth.
All primary teeth should have erupted by the time they turn 2 to 3 years old.
Do you have questions about babys teeth and dental care?
Contact us at any of our locations listed Below:
140 Market Street
Paterson, NJ 07505
Orthodontics Center - 2nd Floor  (x 21 or x22 )
Children's general Dentistry - 3rd Floor
Treatment - 4th Floor
Phone: (973) 742-4200
625 Main Ave
Passaic, NJ 07055
Children's general Dentistry - 3rd Floor
Phone: (973) 574-1000
3196 Kennedy Boulevard
3rd Floor
Union City, NJ 07087
Phone: (201) 325-8444

Related Posts:
How to prevent baby bottle syndrome