January 29th, 2021
Why some teeth do not come in straight?
It's quite common for children to get adult teeth that are not straight.
The most common factors include extra teeth, missing teeth, large teeth, wide spacing, or inadequate spacing/small jaws. Habits like thumb sucking, tongue thrusting, premature loss of baby teeth, or a poor breathing airway caused by enlarged
adenoids aggravate the problem, resulting in crowded teeth and/or an abnormal bite.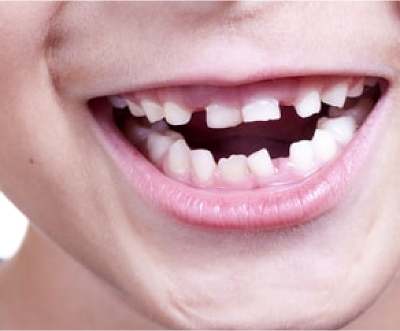 Regular visits to the dentist
The first primary/baby teeth start to come in at about 6 months of age. As soon as your child first gets their baby teeth, it's important to get them on their first trip to the dentist. This allows the dentist to help ensure your child's teeth stay clean,
and they can examine the inbound adult teeth.
Once the adult teeth start coming in, regular dental visits will allow your dentist to notice if some teeth are not coming in straight and they can refer you to an orthodontist or in our case, to our orthodontist department.

Habits
A children's general dentist can help you identify and correct bad habits that might cause teeth to not erupt straight. One of the most common examples is pacifiers. While it can be a great way to soothe a baby and even provide health benefits for infants, it can also
play a part in teeth erupting differently.
However, One should wean their child of the pacifier by the age of two, otherwise, it can cause teeth to grow incorrectly. Thumb sucking is another big instigator of crooked teeth.
A children's general dentist has extensive experience helping children change habits and they can work with you to create a plan for breaking them and know how to provide the right kind of motivation to cause change.
Keep an eye on growth
Sometimes when children start getting adult teeth, they erupt (break through the gums) in a crooked fashion.
While they might look quite crooked in the early stages of growth, they do most of the time end up aligned in a correct position by the time they're fully grown.
So even if your child is getting teeth that are initially crooked, there's no need to panic. Your active role during this period is to have regular visits to your child's dentist so they can provide timely professional insights about any required treatments.
Visit the Orthodontist
If your child gets a reference for an orthodontist, then you should definitely get a consultation. The sooner they can visit the earlier they can begin treatment. Earlier treatment means it's easier and cheaper to fix the teeth and bite,
by correcting minor issues instead of waiting until they become major issues.
Around the age of 7, adult teeth can start to come in, and that is a good time for a visit to the orthodontist, who can assess if early treatments are necessary to prevent major treatments in the future.
Do you feel that your child's teeth seem to be not straight?
Do you feel they may need braces? Contact one of our offices near you.
To schedule a first consultation or visit, please contact us at
one of our locations:
1. 140 Market St, Paterson, NJ 07505
Children's Dentistry - 3rd Floor
Orthodontics Center - 2nd Floor
Treatment Center - 4th Floor
(973) 742-4200
2. 625 Main Ave
Passaic, NJ 07055
Children's Dentistry - 3rd Floor
(973) 574-1000
3. 3196 John Fitzgerald Kennedy Blvd
3rd Floor
Union City, NJ 07087
(201) 325-8444