Have you been considering treatment for straightening your child's teeth?
Perhaps you are looking to make a decision towards a more confident, beautiful smile that your child deserves.
We currently have two treatments for straightening your child's teeth over time. Both will improve your smile and overall dental health. However, you may have questions about the differences between the two.
So what is the Difference between Traditional Braces and Invisalign?
TRADITIONAL BRACES:
Device:
Traditional braces refer to metal brackets, wire, and rubber bands used to straighten your child's teeth. Metal braces include a wire called an archwire.
Your orthodontist will attach brackets to each tooth with bonding material.
These are gradually adjusted over time by tightening the wire which is held in place with rubber bands. This will place the teeth properly. People may shy away from braces and go with Invisalign due to the maintenance that metal braces include.
Time Involved:
- Braces don't come off until its time Braces 2 yrs treatment.
But patients often see results early. This helps to boost self-confidence and may encourage you to keep it up.
Completion expectancy of treatment can vary from patient to patient depending on what is being corrected therefore time frames are estimated whether the patient is advised metal braces or Invisalign treatment.
- Brackets can be tricky.
- Visits: About every 4-6 weeks. Fortunately, these visits are short ( about 30 min to 1hr)
- Slight soreness may occur with adjustments but should be temporary.
Convenience:
Traditional braces may provide better results depending on the challenging orthodontic needs a patient may have.
example: Teeth that may sit in different positions that are noticeable.
You may, however, want to consider this:
They may be a bit more involved to navigate around while flossing but it's not impossible and can be learned and there are accessories available that make cleaning easier. Visits for broken wires may occur.
Food Restrictions:
Unfortunately, there are some foods to avoid while wearing braces.
These may include:
- Popcorn, gum, apples, and other chewy stuff.
Cost:
Traditional braces tend to be more affordable than
Clear aligners. Both treatment options have accompanying payment options.
Most insurances are accepted as well as payment plans
Brushing vs Soaking:
Traditional braces are more likely to trap food and tend to be difficult to clean because they are fixed in the mouth.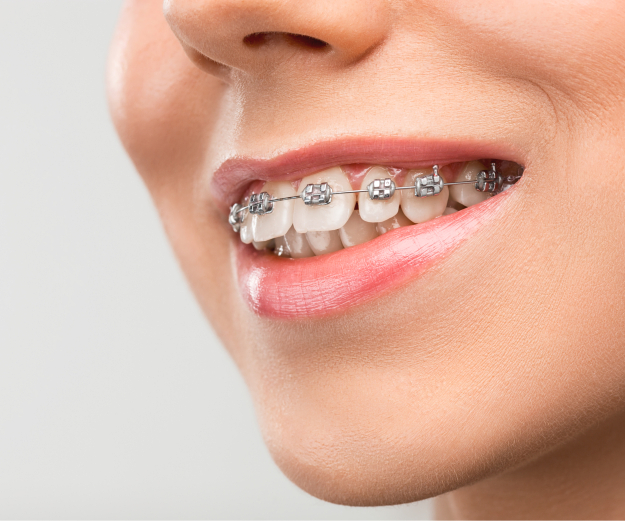 INVISALIGN:
Device:
Invisalign is a popular treatment option due to being removable and virtually invisible.
Invisalign straightens your teeth without wires and rubber bands.
It uses a series of clear, customized, removable devices called aligners.
Braces have been around longer than Invisalign but this doesn't take away from
Invisalign at all. Both are very effective. Invisalign aligners are a bit more smooth.
Proven results: SmartTrack® material and SmartForce® features are clinically proven to improve control of tooth movement with Invisalign clear aligners
Your treatment might include as little as 12 trays or as many as 48
Time Involved:
How long does Invisalign treatment take?
you could see your new smile in as little as 6 months, however, completion expectancy of treatment can vary from patient to patient depending on what is being corrected therefore time frames are estimated whether the patient is advised metal braces or Invisalign treatment.
- Invisalign - Less time than traditional braces.
- 22-24 hrs wear Invisalign a day
- Braces 18 months to 3 years
Convenience:
Invisalign treatment is ideal for your busy schedule since you only need to visit our office every six weeks. Invisalign Clear aligners can treat a wide range of teeth-straightening conditions, including crossbites, crowding, open bites, gapped teeth, overbites, and underbites. Virtually invisible. Most people will not even notice that they are being worn. They are often referred to as more comfortable than metal braces due to the SmartTrack material. Straightens teeth more predictably and comfortably covered by many orthodontic insurance plans paying with pre-tax dollars from your HSA arranging a monthly payment plan
Food Restrictions:
Time for a snack? No problem. Take out your aligners to eat or drink whenever you want.
Cost:
Invisalign can typically cost more than their metal counterparts but there are available payment options. Most insurances are accepted as well as payment plans
Brushing vs Soaking:
It is as easy as taking your aligners off to brush and floss your teeth and then putting them right back in. Your aligners will stay cleaner if they are placed on clean teeth.
Must be considered:
Invisalign trays must also be cleaned.
Because bacteria can build up on the trays while you sleep during the night.
It's best practice to establish a routine to clean them in the morning and at night,
for the best oral health.
Soaking and Rinsing them is also a great practice.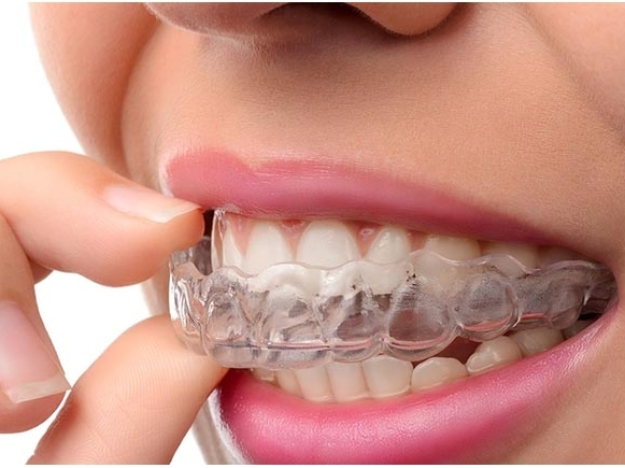 Frequently asked questions:
The Invisalign Treatment Process
Here are some frequently asked questions about Invisalign
What are the primary benefits of Invisalign treatment?
Treatment
FEATURE
INVISALIGN
OTHER CLEAR ALIGNERS
TRADITIONAL BRACES
Made from SmartTrack Material
Yes
In-person consultations with real doctors
Yes
Yes
Easily removable for eating, drinking & flossing
Yes
Yes
No emergency visits for broken wires
Yes
Yes
Virtually invisible
Yes
Yes
Made from traditional brackets and wires
Yes
Each aligner is trimmed to your gum line
for optimal comfort and appearance
Yes
Blue compliance indicator dots
to help you stay on track
Yes
Covered by many orthodontic insurance plans
Yes
Yes
Yes
Treatment:
There's never been a better time to straighten your teeth with the most advanced clear aligner in the world. Our office is proud to be a certified provider of Invisalign clear aligners, which give you a clear, convenient, and comfortable option to achieve the smile you've always wanted. This does not indicate that metal braces are not a great choice.
Conclusion:
Regardless of which orthodontic treatment you choose, the professional staff at
Smile Central Dental is skilled at providing you quality treatment giving you a winning smile with the best options for you.
Braces are the popular choice for most of our patients which is perfectly fine.
It all boils down to the patient's preference.
Consults are free for metal braces treatment and, or Invisalign treatment.
Most insurances are accepted as well as payment plans.
Convenient office hours and open on Saturdays.
To schedule a first consultation or visit, please contact us at
one of our locations:
1. 140 Market St, Paterson, NJ 07505
Children's Dentistry - 3rd Floor
Orthodontics Center - 2nd Floor
Treatment Center - 4th Floor
(973) 742-4200
2. 625 Main Ave
Passaic, NJ 07055
Children's Dentistry - 3rd Floor
(973) 574-1000
3. 3196 John Fitzgerald Kennedy Blvd
3rd Floor
Union City, NJ 07087
(201) 325-8444